Mid-tier accounting firms in Singapore are considered to be strong players in any domestic market outside of the industry's "Big Four". While they don't have the full reach that top firms such as KPMG or PWC have, their international presence is enough to cater to middle market clients worldwide.
The following is a list of the top 5 mid-tier practices in Singapore. Combined, these firms employ more than 1,200 accounting professionals in the country and they serve some of the largest corporations and business entities in Singapore.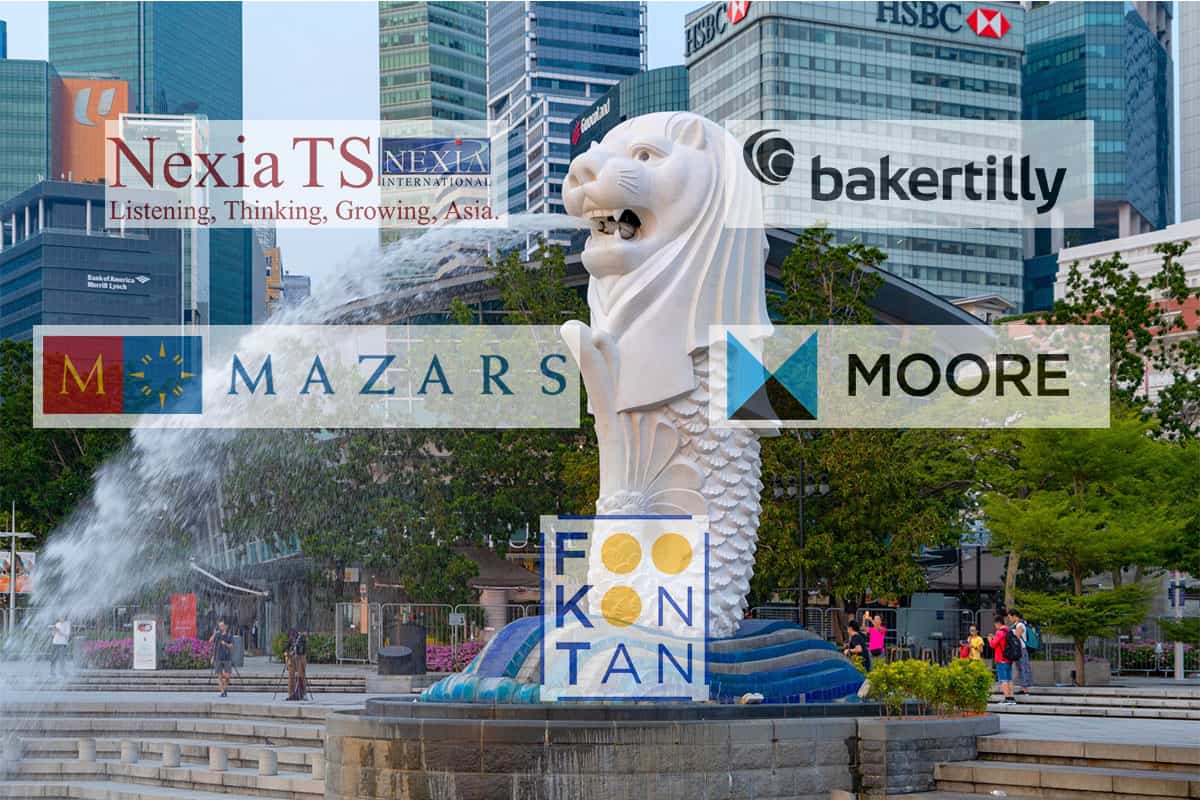 Foo Kon Tan
Foo Kon Tan is a home-grown Singaporean accounting firm that started operating in the country in 1968. The company offers a comprehensive list of accounting services including assurance, tax advisory & compliance, business software solutions, and quality control. They are also a member of HLB International, which is a global network of accounting firms that provide Foo Kon Tan access to highly reputed accounting firms that can help their customers in fulfilling any needs related to their international operations.
Baker Tilly TFW
Baker Tilly TFW is the Singaporean branch of Baker Tilly International, which is one of the 10 largest accounting firms worldwide. The firm is the result of a merger between Teo, Foong + Wong with Sim Guan Seng & Co. that ended up forming TeoFoongWongLCLoong, which is the accounting firm that later on joined the Baker Tilly International network. This top mid-tier accounting firm offers assurance, corporate secretarial, deal advisory, and tax compliance services to many businesses in Singapore and it employs around 250 accounting professionals.
Nexia TS Public Accounting Corporation
Nexia TS is the Singaporean branch of the highly reputed Nexia International, a leading global accounting services network comprised of hundreds of members in North and South America, Europe, the Middle East, Africa, and the Asia Pacific region. The company started its journey in Singapore in 1993 and it became a mid-tier accounting firm in the country over time. Its services include tax compliance, assurance & business services, M&A advisory, and valuation & transaction services, among others.
Moore Stephens
Moore Stephens has been present in the Singaporean market for 30 years now, offering a comprehensive set of accounting services including audit & assurance, risk management, business advisory, corporate finance, financial reporting, and tax advisory. This top mid-tier firm is a member of the highly reputed Moore Global Network, a world-class network of accounting firms comprised of more than 600 offices spread across 110 countries around the world. On a global scale, Moore employs more than 30,000 accounting professionals. In Singapore, the company employs around 200 professionals to serve industries such as shipping, minerals, oil & gas, manufacturing, real estate, and technology.
Mazars
Mazars relied on its strong global reputation to establish itself as a top mid-tier firm in Singapore. The company is part of the Mazars International Network, a world's leading group of more than 40,000 professionals established in 88 countries around the world, delivering top-notch accounting services that include audit & assurance, payroll outsourcing, tax planning, financial advisory, capital markets & IPO advisory, and valuation services. The company serves businesses in more than 7 different industries including food & beverages, real estate, energy, and utilities.