As we moved into the third quarter of 2018 there is cheer in most countries' GDP -many recording constant GDP and growth.
China the 2nd largest economy in the world and the big brother of Asia recorded a 6.9% growth in 2017. The GDP translated to almost US$13trillion and is forecasted to grow to US$13.3 trillion  for 2018 with GDP of 7.05%.
China GDP for the first time now exceeds the Eurozone of 19 countries GDP,which total US$12.8 trillion!
China has a very difficult position in the last 3 years as the present government led by President Xi had to take hard measures to rectify the cracking domestic economy, corruption, capital flight, rising housing prices across China, inflation and clearing out non-performing loans and tight credit control.
The above are just the core areas which was very painful to many businesses but was seen as necessary —the impact of these was a massive slowdown in the economy and GDP.
This impact is not only felt in China but across Asia which saw GDPs plummeting.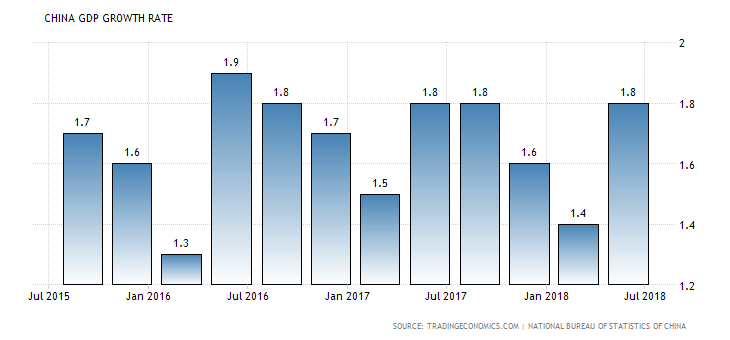 Moving forward
China is now seeing some positive results of the painful exercise for the last: years and whilst The Central government is forecasting a GDP of 6.9% many economist is expecting a GDP of 7% for 2018. The stability in China's economy already has a positive impact on many Asian countries where China is one of their largest trade partners; notably in Singapore, Japan ,Thailand and Malaysia.
Make America Great Again
President Donald Trump has only been in office for 16 months and has begun to reviv a sluggish, dying US economy -it have added live by bolstering investment, tax cuts, creating employment in manufacturing , construction and mining sectors . GDP growth rate was 2.3% vs 1.6% in 2016. As at 2017 US GDP stood at US$19.9 trillion vs $18.5 trillion!
Notwithstanding the present US administration may impose higher import tariffs and withdraw from many unfair trade deals entered into by previous administrations- this is seen very negatively by many politicians and economist. I am of the view this is good for the rest of the world in a medium to longer term. USA have always held the biggest consumer market-economy in the world -a rebounded strong US economy will lead to higher consumption and demand for goods and services hence imports into the US.
Again countries like Japan, Singapore and even China are seeing improving trade numbers with the US the last 2 quarters.
Trend
We will see less US overseas investment across the board, in particular Asia and Latin America due to the favourable tax incentives rolled out by the present US administration.
However we will see more investments, merger and acquisitions by chinese companies as they embark on their overseas market expansion and development. Sectors to watch out for are mining and resources, construction, energy and technology sectors.
Competition
Here we are not talking about completion for markets but countries competing to woo FDIs -foreign direct investments.
There will be significant decrease over the next 2 years of overseas investment by US companies, slower overseas investment from the sluggish Eurozone economy, China overseas investment strategy is worldwide focus. Asia which is so used to rely on high FDIs to spur their economies will have to fight for the investments and capital inflows.
Conclusion
The economic forecast for Asia is positive for the next 2 years at least. Protectionism will be prevalent. US  and China economies will continue to re-engineer and will grow. Asian economies must reach out to the biggest and second largest economies and embrace them to benefit.