SINGAPORE-LISTED companies will have to justify the independence of long-serving independent directors – if suggested rule changes put forth by the Corporate Governance Council on Tuesday go into force within the second half of this year.
To encourage firms to refresh and introduce more diversity into their boardrooms, the Council is proposing to enforce a "nine-year rule" that will reassess whether an independent director (ID) still qualifies as independent after nine years in the role.
The Singapore Exchange (SGX) is seeking public feedback on whether the "nine-year rule" should be written into the Listing Rules as a hard limit, or if the ID's term should be put to an annual two-tier vote. With the second option, the ID would have to win a mandate from all shareholders, as well as from the majority of all non-controlling shareholders.
To provide sufficient time for companies, notably the small and medium enterprises (SMEs), to adjust their board composition and search for new IDs, the Council has recommended a transition period of three years to be provided.
Nearly 30 per cent of IDs in Singapore have more than nine years of service under their belts. Some IDs have served for more than 30 years.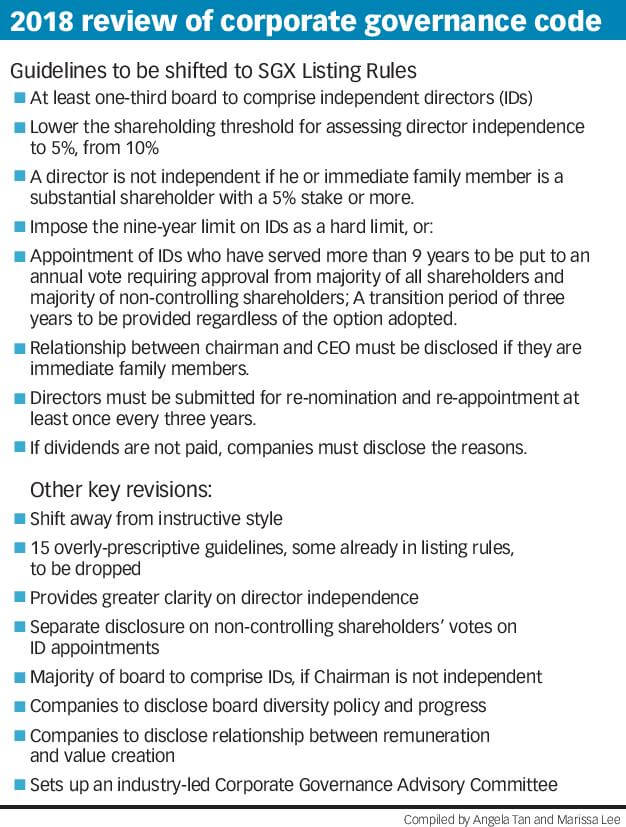 The nine-year rule is just one of 12 other "baseline" market practices that the Council wants to add to the SGX Listing Rules for mandatory compliance. Currently, firms are only encouraged to observe these practices under a comply-or-explain regime.
This change re-aligns similar board planning policies in accordance to other countries in the world, where similar tenures of 7-12 years are observed, with an average maximum limit of serving in 3 terms.
The maximum tenure limit will influence listed companies to refresh their board regularly, as opposed to independent directors that have long tenures and might be complacent, not acting on minority shareholder's interests.
There is mixed sentiments in the air though, with some still arguing that there is not enough to make independent directors question and challenge current operating procedures of companies, that more should be done to ensure proper checks and balances are carried out to protect stakeholder's interests, rather than simply approve at what is being carried out.
Kurt Wee, president of the Association of SMEs, told BT:
"My preference is for a two-tier vote. Although it's a process that is a bit more tedious, it gives the company the option of another extension and you have a process that satisfies the minorities."
The Council is also recommending moving the current guideline for a third of any board to comprise IDs to the SGX Listing Rules. Already, 96 per cent of listed companies have boards with at least one-third IDs.
Corporate Governance Council chairman Chew Choon Seng told an audit committee seminar on Tuesday:
"The Council came to an early consensus that the Code can be simplified and streamlined so that it sets out principles that are over-arching and non-disputable statements of good corporate governance…

"The imperative is for companies to recognise that good corporate governance helps in accomplishing their business mission and objectives and is therefore in their own best interests."
The public consultation on the revised Code closes on March 15. The revised Code will be launched in the second half of 2018.
Originally Reported in The Business Times
Date: 17 Jan 2018
Source: https://www.businesstimes.com.sg/companies-markets/nine-year-threshold-for-independent-directors-back-in-focus