The bidding frenzy for Singapore land has slowed to a trickle, going by the results of the first auctions since property curbs were tightened.
Just three bids were submitted for the Jalan Jurong Kechil site in the island's northwest, compared to 24 received in April last year for the nearby Toh Tuck Road plot. Only five offers were tendered for The Dairy Farm plot, the Urban Redevelopment Authority said in a statement late Tuesday, while a public housing site was priced lower than a similar project sold in February, according to brokers.
The government stepped up property curbs in July after home prices rose for a second straight quarter, saying it wanted to avoid a sharp correction that could damage the economy. The moves included increased stamp duties and tougher loan-to-value limits for buyers.
"The latest round of cooling measures has reduced the participation rate of developers," said Nicholas Mak, an executive director at SLP International Property Consultants in Singapore. "Interestingly, the top bids of all the three tenders were submitted by companies involved in construction, which may be able to economize on their costs for the developments."
The top offer for the Dairy Farm Road site in the city's west, was submitted by UED Residential Pte., at a price of S$830 per square foot. That was 22 percent lower than the nearby Hillview Rise plot, according to property broker JLL.
New property cooling measures announced: Higher ABSD rates, tighter loan limits
SINGAPORE: The Government announced on Thursday (Jul 5) that it is raising Additional Buyer's Stamp Duty (ABSD) rates and tightening loan-to-value (LTV) limits on residential property purchases, in an effort to "cool the property market and keep price increases in line with economic fundamentals".
The move comes several days after official data showed that private home prices had risen to its highest point in four years in the April to June quarter, with analysts predicting that prices could soon recover to 2013 peak levels.
​"The government has been monitoring the property market closely. We are very concerned that prices are running ahead of economic fundamentals," said Mr Lawrence Wong, Minister for National Development on Thursday.
"There is a large supply of units coming on stream and interest rates are going up. We want to avoid a severe correction later, which can have more destabilising consequences. Hence we are acting now to maintain a stable and sustainable property market," he added.
The ABSD will be raised by 5 percentage points for citizens and permanent residents (PRs) buying second and subsequent homes, and by 10 percentage points for entities, said the the finance and national development ministries, as well as the Monetary Authority of Singapore (MAS) in a joint release.
There will be no change in the rates for citizens and PRs purchasing their first residential property.
An additional ABSD of 5 per cent, which is non-remittable under the Remission Rules, will also be introduced for developers purchasing residential properties for housing development.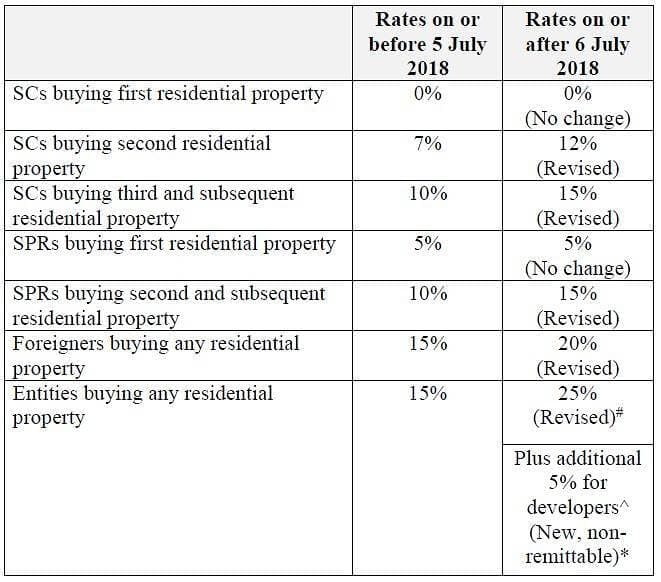 Authorities said that for purchases jointly made by two or more parties of different profiles, the highest applicable ABSD rate will apply.
However, full ABSD remission will continue to be provided for joint purchases of the first residential property by married couples with at least one spouse who is a Singapore citizen, they added.
Married couples with at least one Singapore citizen spouse who jointly purchase a second home together can continue to apply for an ABSD refund, as long as they sell their first home within six months after the date of purchase of the second property, or by the issue date of the Temporary Occupation Permit or Certificate of Statutory Completion of the second property – whichever is earlier.
The new rates are effective Jul 6, but there will be a transitional provision for cases where an Option to Purchase (OTP) has been granted by sellers to potential buyers on or before Jul 5.
LOAN LIMITS
Meanwhile, LTV limits will be tightened by 5 percentage points for all housing loans granted by financial institutions, the release stated. The revised limits will not apply to loans granted by the Housing & Development Board.
Before the change, individual borrowers were able to borrow up to 80 per cent, or 60 per cent if the loan tenure is more than 30 years or extends past age 65. With the adjustment, borrowers will now only be able to borrow 75 per cent, or 55 per cent if the loan tenure is more than 30 years or extends past age 65.
The new limits will apply to loans for properties where the Option to Purchase is granted on or after Jul 6.
Authorities said that in line with this, LTV limits for mortgage equity withdrawal loans will also be tightened – 75 per cent for a borrower with no outstanding housing loan for the purchase of another residential property and 45 per cent for a borrower with an outstanding housing loan for the purchase of another residential property.
Originally Reported
On Bloomberg on 5 Sep 2018
https://www.bloomberg.com/news/articles/2018-09-05/singapore-land-frenzy-slows-to-a-trickle-after-property-curbs
On Channel News Asia on 5 Jul 2018
https://www.channelnewsasia.com/news/business/singapore-property-cooling-measures-higher-absd-rates-loan-limit-10502710